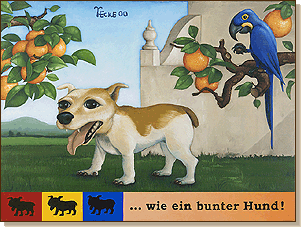 Known All Over the Place ... Like a Colored Dog!
23,6" x 31,5"


he ingenious creators Goscinny and Tabary did not allow the Grand Vizier Iznogoud to overthrow the Caliph of Baghdad and take his place, although they let him try endless times.
Iznogouds aim in life is to become Caliph, but he always will be the second in command and stays as Grand Vizier. He and his faithful servant Dilat Larath who has to assist him in his ruthless attempts trying to get rid of the sweet but gawkly Caliph of Baghdad Haroun El Poussah sometimes with the help of greedy magicians.
To the one asking himself:
"What does that painting have to do with it?"
the following explanation will be given:
This little dastardly Grand Vizier is always saluted by the palace guard with:
"Honor and Glory to the Grand Vizier!" when he storms out the palace for more mistchief, finding a new way to get rid of the Caliph.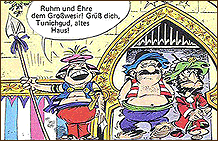 © by Dargaud Egmont Delta Ehapa



I would like to see the same reverence for artists.
With the same tenacity as Iznogoud exhibits wanting to be Caliph, an artist wants to strive for recognition, spreading his name to be known
... all over the place!




The original - a Jack Russell Terrier

For those who don′t know the adventures of Iznogoud,
I would highly recommend these fun comics.
The lines are coming from the wonderful writer René Goscinny, who also was one of the fathers of Asterix and Obelix.
His satirical writing style and the puns made Iznogoud an unique anti-hero in the world of comics.
In the 70′s these precious comics were published in Germany by Delta and Ehapa Stuttgart.
The copyrights belong to Dargaud Paris and Delta and Ehapa publishing house.

The pictures on this website are only used for spreading abroad the glory and honor of the Grand Vizier Iznogoud.



| | | |
| --- | --- | --- |
| | © by Dargaud Egmont Delta Ehapa | |