Hardy Ecke
Germany trip
in August 2018
visiting Markgröningen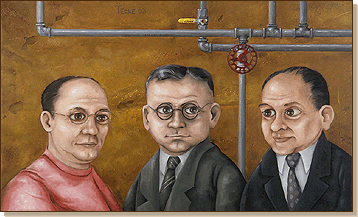 Three Hengels for Charlie
23,6" x 39,4"


ermann Hengel (on the right) was member of the town council and owner of the plumbing company. His son Kurt (on the left) has taken over the family business. The mother and brother are working there as well. After Kurt visited my Studio he commissioned a portrait of his grandfather, his father and himself.
He hasn't told his family about his plans. It was quite a surprise for his father, when we brought him to the studio to see the completed painting. The first thing the old master craftsman said, was:
"The pipes shouldn't be crossed!"
Kurt and I were laughing about that comment and asked him how he likes the painting. It should be about the art and not about correct plumbing.
"Ya right ..." said Herman Hengel


"but the pipes shouldn't be crossed!"
This was his way to give the blessings to the painting!