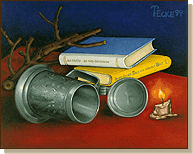 Up to the Bitter End
15,8" x 19,7"


lived and breathed literature.
Leo Tolstoi - The Kreutzer Sonata named after Beethoven′s Kreutzer Sonata,
und Benoîte Groult - Salt on our Skin: I experienced all this myself, lived and savored to the bitter end, walked on a thorny road (represented by the cut, dried out thorn branch) and finally figured out that the mug is empty at the end and the candle of life has burned down a little more.
I should have put the book,
The Adventure of My Youth (Book of Passion) by Gerhart Hauptmann (known for The Weavers) on this stack of books also.




An empty mug and a branch with thorns from roses







Leo Tolstoi





Gerhart Hauptmann