stretching torture rack
at criminal museum
Rothenburg
ob der Tauber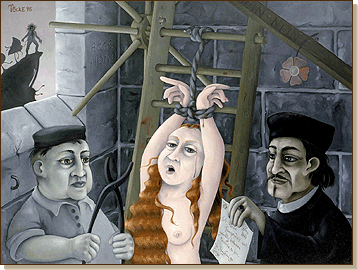 Ecce homo
See, Through Suffering a Human is Elevated
37,4" x 47,2"



nderstanding and Expectations
Getting acquainted with the topic of witches, I visualized two deeply rooted clichés: Fairy tale witches and women burned at the stake.
After intense research on the witch hunt topic and especially the citizen of Lemgo, Maria Rampendahl, I came to the understanding, which destroyed my cliché, but also made it much more difficult for me to incorporate that subject in a painting.

The use of the female character, Maria Rampendahl, by the womens liberation group seems to be inapropriate to me. Because she did not fight for the rights and freedom of women in general, but she stood up for herself bearing unspeakable pain and torture. Although she set a shining example for courage. It appears as if some groups will abuse anyone as their poster child, if it advances their cause.
Every strong-willed person is able to stand up against tyrany and arbitrariness.
The expectations for the improvement of mankind, seem to be as pessimistic as the dark age itself.

Essential for the painting was an etching of a torture on the rack and a fictitious, but comprehensible story by Heinrich Gräfenstein: "No, for heavens sake, no ..."

A multilateral documentation about the 400 years of witch hunting, in the German language is available. It has an explanation for the signs and symbols that were crucial for the development of the painting.




Detail from the album cover Uriah Heep


The Magican's Birthday from 1972 by Roger Dean







nicknamed
the whitch mayor′s city hall
Lemgo