Albrecht Duerer
German painter from Nuremberg
1471 - 1526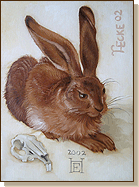 Albrecht the Hare is Five Hundred Years old
14,6" x 10,6" Hardy Ecke


his is one more proof that new media can be the link to old values.
Through the internet I found the works of Manfred Jürgens a German colleague from Wismar (at the Baltic Sea) in 2002.
For the easter holidays he emailed me a greeting card with a picture of Albrecht Duerer's hare and a headline: "This hare alone can be the real McCoy!" and I had to admit, he was right at his point. The Duerer aquarell is famous all over the world.
As a creative person I couldn't help it, I needed to give back a smart answer and in addition sent him easter greetings.
So I sent him a picture with a bunch of rabbits that I had slaughtered recently and attached his old headline and my addendum: "Absolutely correct!"

But I thought this wasn't quite enough. Within the next days I was still thinking about the hare/rabbit and what to do about it.
I also had in mind that my favorite Columbian painter, Fernando Botero, once painted a Albrecht Duerer portrait in his special rounded Botero style, so I was challenged to do a Ecke-Duerer hare.
While I was drawing the sketch on canvas, it occured to me, that this renaissance of the hare happened exactly 500 years later.



Addendum 2006:
As I mentioned in the description of the portrait of Roland Bentz there is not always envy existing among artists and many have a great collection of colleagues works.
So I ordered a portrait of my mother from Manfred Jürgens.
Unfortunately we had some misunderstandings (as well as Vincent and Gaugin had an argument), and we broke up even though I was satisfied with the portrait of the Mother of the Artist.
At least, nobody got hurt and no parts of the ear were cut off.